Help restore the Bone Creek Museum of Agrarian Art
Donate and share your support for the campaign:
If you donate $5,000 or more, you can qualify for a tax credit worth 40% of your donation, taken straight off the top of your 2023 Nebraska state income taxes. 
For more information, contact Ruth at 
402-641-1124.
Nolan Covault Foundation
Peter Kiewit Foundation
Ford Foundation
Butler County Area Foundation
Bone Creek Museum of Agrarian Art is selling Tribute Bricks as part of our campaign to expand into the Ford Building. These tributes will be made a permanent portion of the new museum. Bricks are $150 each. 
agriculture. commerce. art.
These seeds have been sown in the soil of Butler County for centuries — dating back to the first residents of this land. While some believe the determination that nurtured those seeds has been tamed by the chaos of modern times, we say it lives on — inspiring culture and building the good life in our communities.
With that same passion, Bone Creek Museum is restoring David City's historic Ford Building. We are on a mission to connect people to the land through art — while growing the museum's impact and Butler County's economy. 
Just as our ancestors sowed seeds of agriculture, art and appreciation for the natural world, Bone Creek Museum cultivates the growth that allows our communities to thrive. We invite you to join us.
A Snapshot of Bone Creek Museum
Bone Creek Museum of Agrarian Art is personified by the sprawling farmsteads that surround it. Today, it remains the nation's only museum dedicated solely to art inspired by the earth.
From a local perspective, the museum exemplifies home. Absorbing the artwork feels like a drive around the mile section at dusk — sweet and soothing. It feels like a new baby calf's frosty breath on a winter morning — crisp and clear
To someone who hasn't spent time in America's breadbasket, visiting Bone Creek is more than a gallery viewing — it's an immersion experience. 
The museum exemplifies local culture, while attracting national attention. 
Over the past decade, Bone Creek Museum has hosted visitors from all 50 states and ten countries. The museum's collection features the work of nationally recognized American regionalist Dale Nichols. If Dale Nichols is the museum's heart, then Bone Creek's soul is the vibrant array of art celebrating the earth and our connections to it, around the world and across centuries.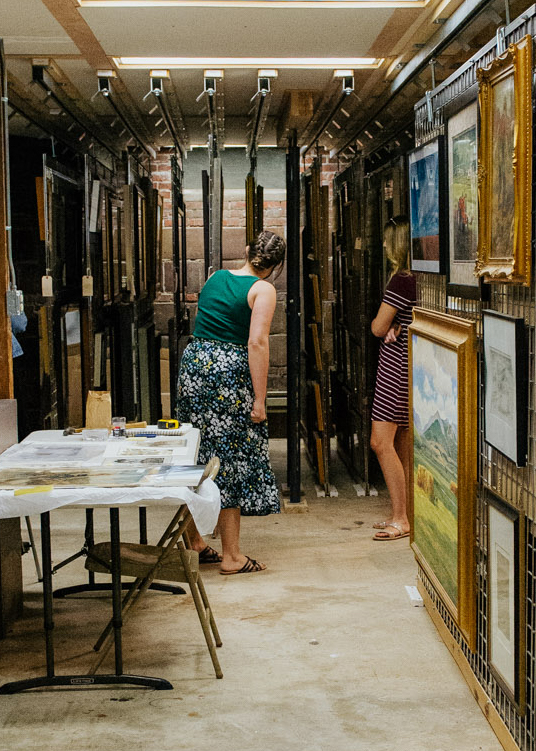 Bone Creek Museum is overflowing.
Agrarian artwork fills 2,000 square feet of the museum's current space, packs the basement vault and crowds a private offsite storage area. Even most of Dale Nichols' renowned work is tucked away for much of the year. But overcrowding in the galleries and vault isn't the real problem. The limited space also inhibits the museum's ability to host classes, workshops, lectures and other constructive opportunities for youth and adults. 
In summary, Bone Creek's present overcrowded arrangement limits the museum's economic, educational and artistic potential. This project releases that potential to further impact not only Butler County but the entire state of Nebraska.
the historic ford BUILDING
Completed in 1917, the two-story Ford Building in downtown David City was once a Ford Motor Company branch store, where Model T automobiles were assembled and sold. The dealership served the entire county, with people traveling from miles away for the chance to own their first automobile. In the ensuing decades, the building was used by a wide variety of car and implement dealers, repair shops, manufacturing firms and artists, including ceramics and woodworking entrepreneurs. 
Anna Nolan and Allen Covault founded Bone Creek Museum in 2007. Their intention was to create a cultural resource that would educate visitors on the "art of the land" that is preserved and showcased there. A 501(c)3 nonprofit, Bone Creek Museum has acquired the Ford Building to fulfill the vision of an educational and artistic treasure for Nebraskans and the world.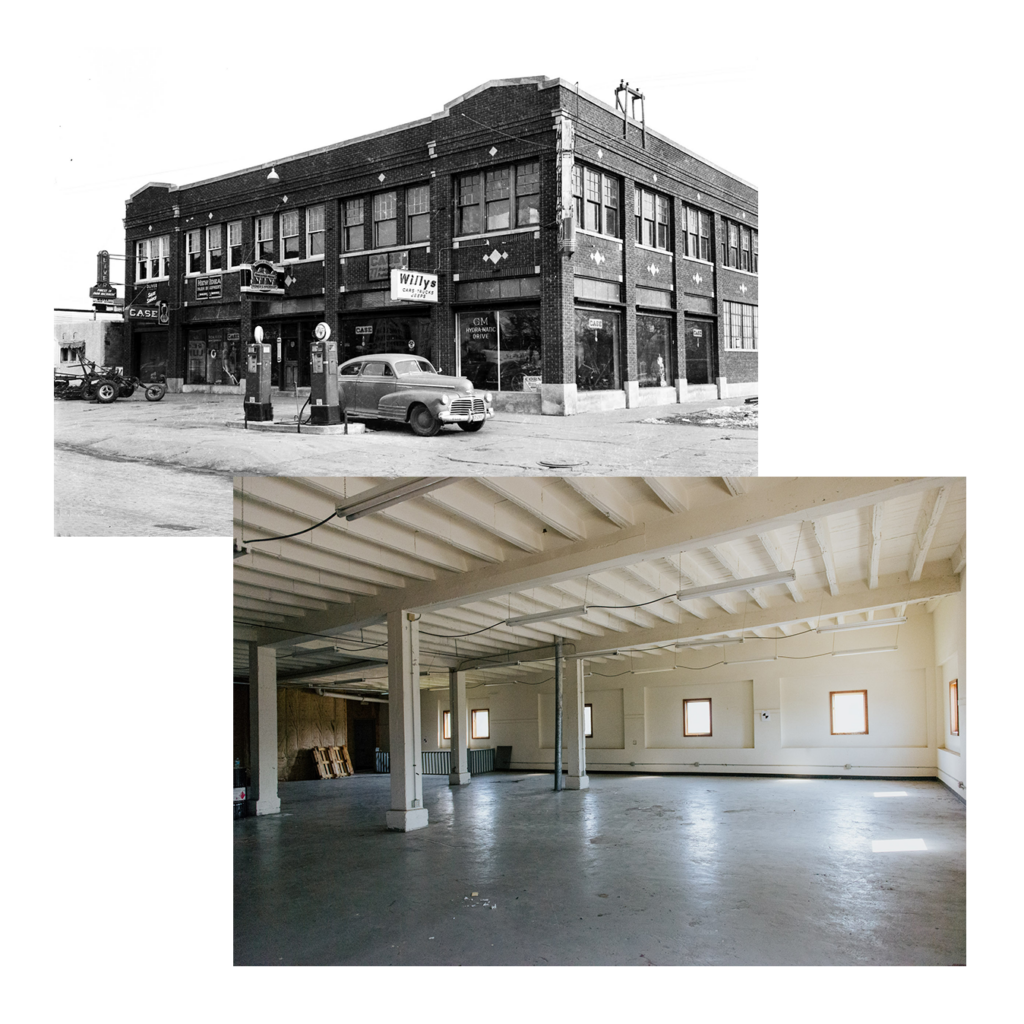 Breathing new life into this historic structure will secure approximately 21,000 square feet for arts, hospitality, events, programming and more — while preserving a local landmark. The brick building is structurally sound. Moreover, the striking tile floor found on the building's main level has been singled out by the Nebraska State Historical Society for being in unmatched condition.
The Ford Building is an emblem of growth and economic advancement. For Butler County residents, it once served as a bridge between horse-drawn transportation and motorized technology of the American Progressive Era. Today, the Bone Creek restoration project aims to connect Butler County's rich past and vibrant future through the arts.
Liberating Bone Creek's capacity to educate, inspire and attract visitors will drive new economic growth for the entire region. Responsible for more than 18,000 jobs in Nebraska, the arts sector contributes $2.9 billion to the state's economy each year. 
Restoration and renovation will include:
Funds raised by the Bone Creek Museum Campaign will support the cost of architecture, engineering, materials and construction at the Ford Building location.
Restoration and renovation is expected to cost approximately $6.5 million.
Note: Originally estimated to cost nearly $8 million, the museum recently worked with an architect to reduce the total price tag by about $1.5 million.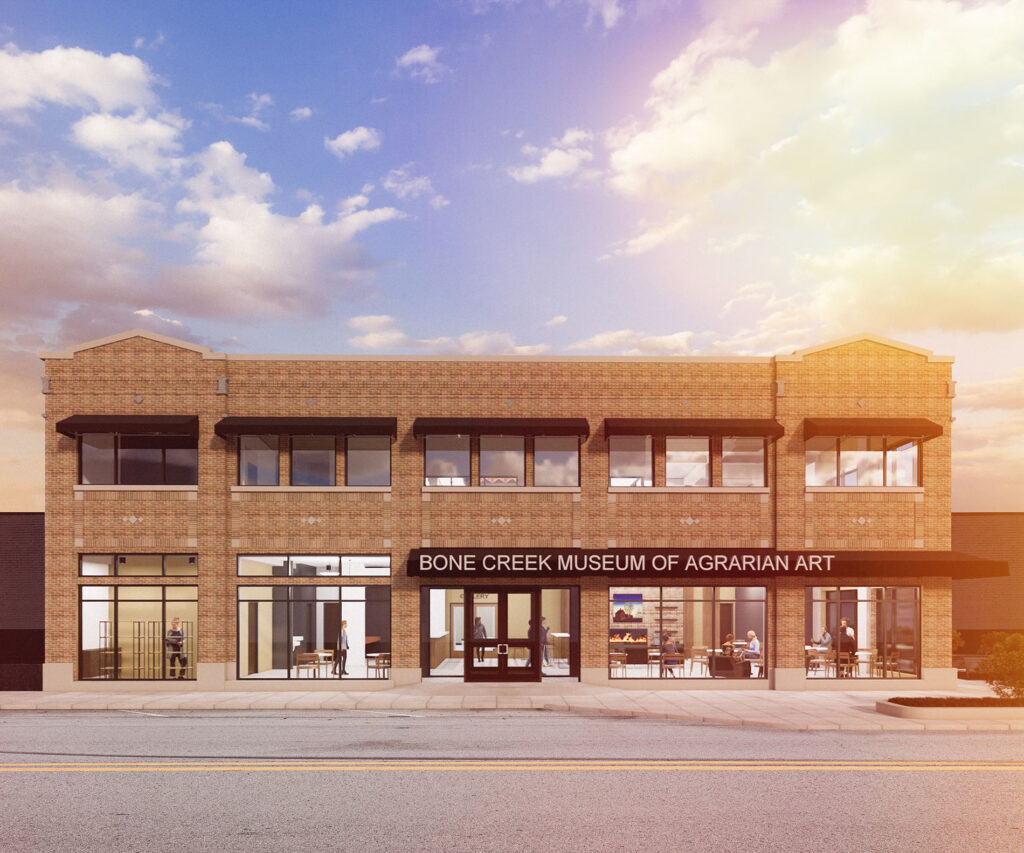 The state believes in Bone Creek's impact. In July 2022, the Nebraska Department of Economic Development awarded the project $2,031,980 — matching more than $2 million in private pledges and bringing the total amount raised over $4 million. This represents nearly two-thirds of our total $6.5 million goal!
Preparations for phase one of the restoration project (including the infrastructure, exterior and main floor) have begun.
Will you partner with us in transforming this now-empty historic building into a world-class, state-of-the-art museum? You can give to Bone Creek Museum online or via check — or pledge your gift through agricultural commodities, appreciated stocks or a special designation of your estate.
Checks can be made payable to Bone Creek Art Museum:
575 "E" Street, David City, NE 58632.